From the moment we (Entrée Capital) met BreezoMeter co-founders Ran Korber and Emil Fisher at an accelerator event in late 2014, we became believers in a market that was nascent. Eight years later, it is hard to contain our excitement for what Ran and Emil have achieved, and what they will still accomplish.
BreezoMeter created the World's most trusted environmental intelligence company, providing air pollution, pollen and active fire information and insights to businesses and individuals. Its data, API and applications are essential for humankind. You can't fix what you can't measure, and BreezoMeter is thus the starting point for managing our Climate and Environment challenges.
I was lucky enough to serve as its longest tenured board member and Chairman so I had a front seat to BreezoMeter's growth. A few things come to mind….
📜 Your Mission Matters
Ran and Emil, BreezoMeter's co-founders, have lived, breathed, and exuded a passion for the subject matter of what they embarked on. They had studied it (environmental engineers), and they worked at it (in the army). They truly believed they could make a difference to humanity and future generations. Founders that truly fit the market they are after makes all the difference.
Despite being a data/SaaS/API business (and eventually a consumer app too), needing to raise capital and grow revenues, it is no coincidence that the mission was key to success. This allowed the founders to attract the right talent which gave up far more lucrative jobs and offers.
Mission matters more than funding announcements, personal promotion and the next demo day.
📱 Great Products Take Time to Build
The first thing we did when we invested in BreezoMeter is to kill the consumer app and model. We all realized that if we were going to build the world's most comprehensive data in our market, and at 99% accuracy at street level, we needed to build the data, algorithms, AI etc. to a scalable level where today it calculated 400 million data points an hour around the globe. There is no simple way to do this. It takes time, and permutations.
Many years later, and after we could reliably sell and monetize did BreezoMeter return to its consumer app strategy to add to the b2b model. And the company partnered with Apple, and others to create brand trust.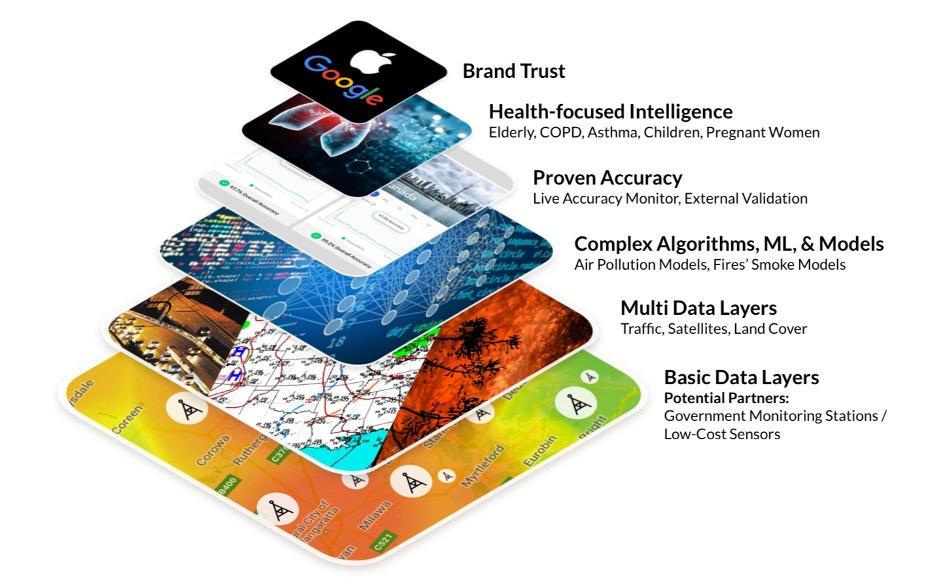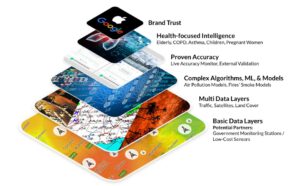 🧬 DNA: The Right People and Culture
One thing to understand about Ran and Emil is that they are humble people. Every bone in their body — good, respectful, honest, and insightful. They deeply care about everyone around them. They are not arrogant, flashy, or self-promoting. This is the only way they know, and something that was sought when hiring each of the 100 odd team. Where folks didn't fit these traits, from the most senior position and down, the company parted with them quickly. The team were almost all based in Haifa, Israel, not flashy Tel Aviv (think Fresno compared to Palo Alto). This singular culture created a winning team that backed each other in every challenge and crisis.
⏰ Timing
Entrée Capital has taken many bets on contrarian businesses, especially ones where it believes that it is investing "pre-trend". BreezoMeter fit that bill. 8, 7, 6, 5 and even 4 years ago, Climate Tech was not a theme (in fact Google Trends battles to even find data).


Chart Comparing "FinTech" and "Climate Tech" using Google Trends.
So, 8 years ago we asked "why now?". We believed, erroneously, that the trend would emerge much quicker. But we planned for a long slog. The idea that data and insights matter was part of the core vision. Sometimes being a little naïve, being a dreamer, and/or just wanting to do good, can create a powerful incentive to stay the course as the need emerges. This can be reflected in the next Google Trends chart that adds environment (green) and air pollution (yellow).


Chart Comparing "FinTech", "Climate Tech" to "air pollution" and "environment" using Google Trends.
💲 Source of Capital Matters
Very little capital comes with real experience. Financial investors, connectors, and influencers are helpful, if at all, once or twice in the life of a company. Experienced entrepreneurs coupled with long-term expectations make a big difference. BreezoMeter had both, but what made a difference was that it did not have investors calling it every month asking for a return/exit.
Due to the long-term and contrarian nature of the business and a super early investment category, literally every Tier-1 fund passed on the business which made the founders raise from folks that bought into its vision and were patient. Most Seed/Early-Stage VC's in Israel passed on a lack of understanding of the market, what struck them as an "average" team, and their quest for a quick win.
🎯 In closing…
BreezoMeter is the largest Climate Tech exit in Israel to date, and the second largest Tech exit for Haifa and the whole 'North' of Israel.
We are so very proud of what the BreezoMeter team has achieved over the past eight years, and are really lucky to have been a part of their journey. We can't wait to see what's ahead for the business. Looking back, sometimes harder is better…
Thank you to Ran, Emil, Daniel, Yafit, Guy, Assaf Naveh & the Meitar team and everyone else at BreezoMeter for making this happen!