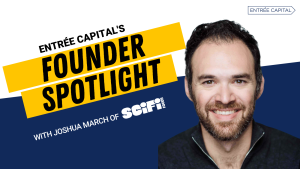 Entrée Capital's "Founder Spotlight" series is a collection of video and written blogs that aim to highlight some of the inspiring founders in our portfolio and to share some of the lessons that they've learned along the way. 
In this Founder Spotlight, we spoke to Joshua March, the Co-Founder and CEO of SCiFi Food.
---
What does your company do and the problem it solves for your target audience in one sentence? 
We're inventing the future of agriculture where we can cultivate meat from cells instead of animals, solving the world's protein gap sustainably with products that people actually want to eat.
How did you come up with your business idea, and what inspired you to pursue it?
I first read about the concept of cultivated meat in a science fiction book, Player of Games by Iain M. Banks. As soon as I read it, it just struck me that it had to be the future, and I felt determined to help make that happen. I was busy working on another startup at the time, so it was a while before I could start actually working on cultivated meat, but it was in my mind for years. 
What's the best advice you've received on your journey?
To be successful in business you often have to make hard, calculated decisions. But that doesn't mean you need to be hard in how you carry out the decisions. Don't shy away from making the difficult decisions, but then be kind in executing those decisions (especially when it comes to People decisions like letting people go). 
Can you pinpoint key milestones in your entrepreneurial journey and how they shaped your business? 
There have been many! I started my first company while I was still at University. I had a huge ego but didn't really know what I was doing, and it took a painful failure to make me realize that I should have listened carefully to people with more experience who had spotted my mistakes before I had. Fast forward a few years, and I had more success with my next company, and then spun out an enterprise software company that raised venture capital. That was a big moment and transition in my career as I learned how to work with investors and manage a board. Fast forward a number of years beyond that, and that company was acquired, which was another huge milestone, and taught me a lot about the full lifecycle of a startup. Ultimately, all of these experiences helped me develop as a founder and laid the foundation for me to found SCiFi Foods. 
What was your toughest decision as an entrepreneur, and how did you handle it?
We went through a tough spot at my last startup after losing a major customer. There was disagreement at the board level about whether to cut costs and push to profitability or to raise more money. It took months of painful discussion and negotiation to find a middle path, and was an incredibly tough time personally for me, and for the company (especially with layoffs). My biggest focus throughout was keeping the company motivated, with weekly all hands, and I was proud that outside of the layoffs no-one else left, we got through the difficult time, and back to growth. 
How do you envision your company's future, and any exciting developments ahead? 
We're at a really exciting time for SCiFi—we're about to complete our first (pilot-scale) production facility, and are working on our US regulatory submission. This should put us on track to launch our first product (the SCiFi Burger!) at the end of next year. Our goal is to transform the food system, which is a long journey, and this is the first step. 
How do you balance work and personal life to avoid burnout?
Making sure I have time to work-out is an absolute requirement for me. I plan my day (including morning meetings, nanny etc) to ensure I have time to do this. Even if I'm traveling for a conference, I'll figure out gyms and will step out in an afternoon to go work out. As long as I'm doing this, and getting enough sleep, everything else generally takes care of itself! This got a little bit more challenging after my daughter was born earlier this year, although it was helped by the fact that my neighbor and I built a full weightlifting gym in his garage, so it's easy for me to pop next door and train every morning. 
Why Entrée?
I met one of the partners, Eran, early on in our company journey. He had done a lot of research in our space and really understood why we were taking the approach we were taking and how it was different from other companies. He also had a unique perspective being in Israel, which is such a hub for food tech innovation; and it has indeed been really useful to be able to get insights on what's happening in Israel!