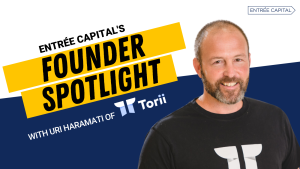 Entrée Capital's "Founder Spotlight" series is a collection of video and written blogs that aim to highlight some of the inspiring founders in our portfolio and to share some of the lessons that they've learned along the way.
In this Founder Spotlight, we spoke to Uri Haramati, the Co-Founder and CEO of Torii.
---
In a sentence, what do you offer, to whom?
Torii is a SaaS management platform. A single point of management for the entire SaaS ecosystem, providing complete visibility into SaaS usage and spend, along with actionable insights and automation capabilities o help companies regain control of their IT business, improve operational efficiency, and secure their SaaS environment.
What was your first product like, and how is it similar or different to your current product? 
Our product changed and evolved a lot since we introduced our first version 6 years ago. Our vision of creating one software to manage all software remained. We pioneered SaaS Management, the category did not exist back then. And as we started working with our customers and product we have learned how to solve the different problems they are facing with their SaaS sprawl beyond the very basic pain of visibility. That's where we started introducing actionable insights and workflow automation and learned how to help IT to empower the rest of the organization.
What has surprised you most while building your business?
What surprised me the most was the lack of knowledge and best practices for medium-size enterprise companies in coping with the rapid adoption of software in the organization. It was one of the reasons we started Torii, but the thing that was surprising the most is the magnitude of the problem.
What were the main stumbling blocks during the first 24 months of building your business and how did you overcome them?
The fact that our category is just starting to emerge 4 years into the making of Torii was very challenging in the first 2 years. Customers and prospects didn't know what is SaaS management, what it is used for, and how they can utilize it. Without a marketing engine, it required a lot of legwork from us founders to get in front of the prospects and educate them as we are building the product they need.
What's the best advice you've ever received?
"If you don't have a solution, you are part of the problem". We nurture entrepreneurial thinking. In a startup, everyone faces new problems and challenges daily. As a team on a mission to build something new and innovative, when we are facing these problems we can't wait for someone else to solve them. When each of us is facing a problem, we should already have the solution in mind, the thinking is which solution is the best and how to execute it.
Could you recommend one to three books that assisted you through your entrepreneurial endeavors?
I would recommend "Getting things done" by David Allen.
Why Entrée?
Entrée funded the previous company I founded, Life on Air (AKA Meerkat, Houseparty), It formed a great relationship, and Entrée was always there for us, especially when Sh#t hit the fence. It was obvious for me to speak to Avi when the idea was forming, and the rest is history.